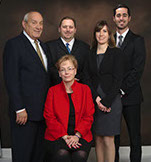 Securities Litigation and Arbitration
Maurer & Associates, PC attorneys have decades of experience successfully representing investors in a wide range of securities- related specialties. The firm has helped clients across the United States achieve optimum results in a wide range of securities disputes involving:
Fraud, Churning, Variable Annuities, Limited Partnership Interests, Real Estate Investment Trusts (REITs), Private Placements, Breach of Fiduciary Duty, Commercial Disputes Involving Contracts, Trade Secrets, Unfair Competition and Deceptive Trade Practices, and Pension Losses
Maurer & Associates, PC has extensive securities experience in matters before the Connecticut, New York and Illinois State and Federal Courts. The firm is experienced in Federal securities litigation under the 1933, 1934 and 1940 Acts, the Private Securities Litigation Reform Act of 1995 (PSLRA) as well as the Sarbanes-Oxley Act of 2002.
In addition, the firm has a track record of success representing clients in arbitrations before the Financial Industry Regulatory Authority (FINRA) and the American Arbitration Association (AAA). Attorney Elisabeth Seieroe Maurer is a registered arbitrator and panel chair for FINRA and NFA (National Futures Association) which gives her substantial experience in a variety of products and disputes.
Maurer & Associates, PC attorneys have a nationally respected reputation in securities litigation, one of the most specialized and demanding areas of law. Maurer & Associates, PC attorneys have successfully protected the rights and investment assets of hundreds of individual investors. Below is a sampling of just a few of the securities cases successfully concluded by Maurer & Associates, PC:

Maurer & Associates, PC attorneys represented more than 150 investors who had been victimized by underwriters of a series of limited partnerships in real estate, airplanes and equipment. The underwriters had hidden or squandered the investors' assets and Maurer & Associates, PC attorneys successfully asserted claims against the underwriter's attorneys, accountants, appraisers, and business consultants as RICO conspirators. They also recovered fine art, a Long Island mansion once owned by the DuPont family and a sterling silver suit of armor created for Catherine of Aragon from the underwriter's principals by working closely with various law enforcement agencies and an investigative reporter.

Maurer & Associates, PC attorneys represented more than 400 investors in Prudential Securities fraud actions in state, federal and bankruptcy courts. In cases involving more than 40 real estate limited partnerships, Maurer & Associates, PC attorneys were able to leverage arbitration proceedings to recover the investments in a majority of cases. The strategy implemented by Maurer & Associates, PC saved the cost of litigation for their clients, most of whom were elderly.

Maurer & Associates, PC represented a member of a credit union whose multi-million dollar stock portfolio had been liquidated improperly against his wishes by a broker dealer subsidiary of the credit union. In a creative approach to the litigation, attorneys for Maurer & Associates, PC presented more than 700 exhibits to the jury through the use of computer simulations. By providing the jury with easy-to-understand materials, the firm successfully demonstrated the negligence of the broker dealer and won a verdict for the plaintiff.